Cancelling your subscription is easy!
If you wish to cancel your subscription, please locate your order confirmation email in your inbox (check your spam or junk folder if you never received this email from us).  You can also find your order using our easy purchase lookup tool.  Then, please see the following sample confirmation email which highlights the link you should click to manage or cancel it: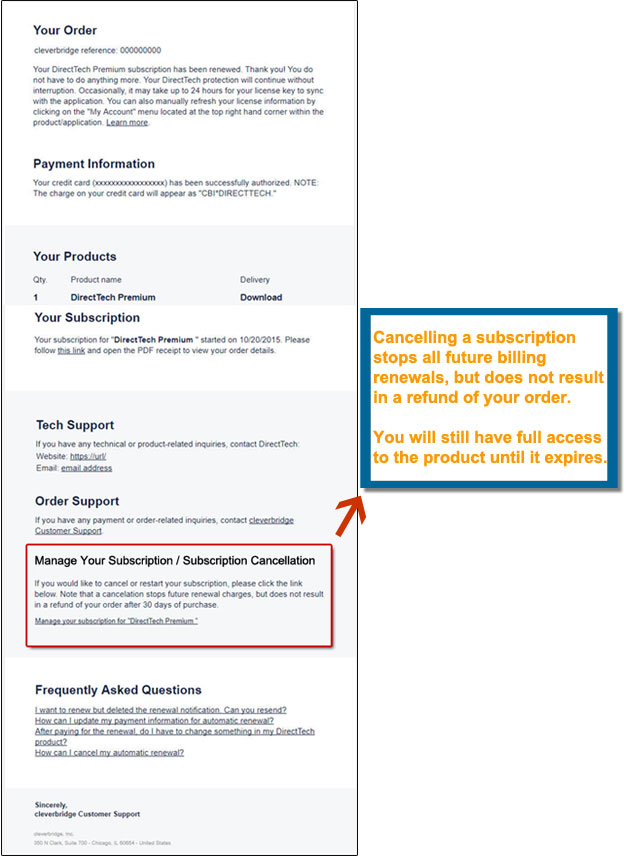 Alternatively, you may follow these steps:
Refer to your order confirmation email from cleverbridge
Go to the section in the email titled "Subscription Cancellation" or "Manage Subscription"
In this section, click the "Cancel or Manage your subscription" link
Confirm that you want to cancel your subscription
Once you complete this step, you will automatically receive an email confirming the cancellation

Can't find a subscription cancellation link?
While most software providers will include a subscription cancellation link in the order confirmation email, some do not. If you cannot locate the "Cancel or Manage your subscription link", please visit your customer portal or "My Account" section of the software provider's website to cancel your subscription.
If you wish to inquire about a refund or need further assistance, please contact cleverbridge Customer Support.